Capeway rovers m/c
Home of NCSC Championship racing

Last race of 2022 in New England
Is On For Tomorrow!
NCSC championship
Fall series race 9 Sunday 11/13

GPS address: 224 Plymouth St
Carver, MA

Spectators welcome

No starting any machines before 9am
Proof of medical insurance required,
riders must bring their
card to sign up,
you will not be able to ride without it.
Gate opens Sat 3pm-9pm Sun 6:30am
Sat night sign up 4-6
Sunday sign up 7-9
All racers welcome

All Entries

$35 Per class

Mechanics pass $5
General admittance $20 per person under 4 free


Pit bike raffle to benefit the Ava Pioppi Memorial Scholarship will be drawn this Sunday afternoon! Tickets are $40 but donations are gladly accepted if you do not want to buy a raffle ticket.

New layout!
Come check it out!!!!!

No pit vehicles of any kind
Riding in the pits is from your pit to the staging area and from the track exit to your pit only
All Entries
$35 per Class

Riders meeting 8:45
Radio 96.5 Fm

250A & 450A
257% Payback
Highest in
New England
Bigger than NESC
Compare the charts

Open A - 30+ A - 40+ A
50% Payback

"21st century racing facility"
Mylaps scoring
Ambulance on site
Plenty of parking
Air conditioned/heated
Eat in restaurant
Breakfast & lunch menu
Real bathrooms

Mechanics Pass $5


General Admittance 20.


Transponder Rental $10 per day with
$280 cash deposit or credit card
Transponder Clip $10

Buckley Photos
Drawings this Sunday
Monster Energy Gift Bags
Bettencourts Honda Suzuki


C-Cycle Suspension



Hutch Motorsports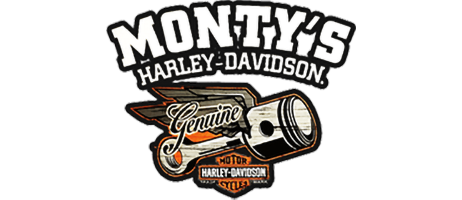 Monty's Harley Davidson


Motorsports Nation


Pilgrim Power Sports


Plymouth County Motorsports


Damien's Hanson. MA


Giardino's Abington, MA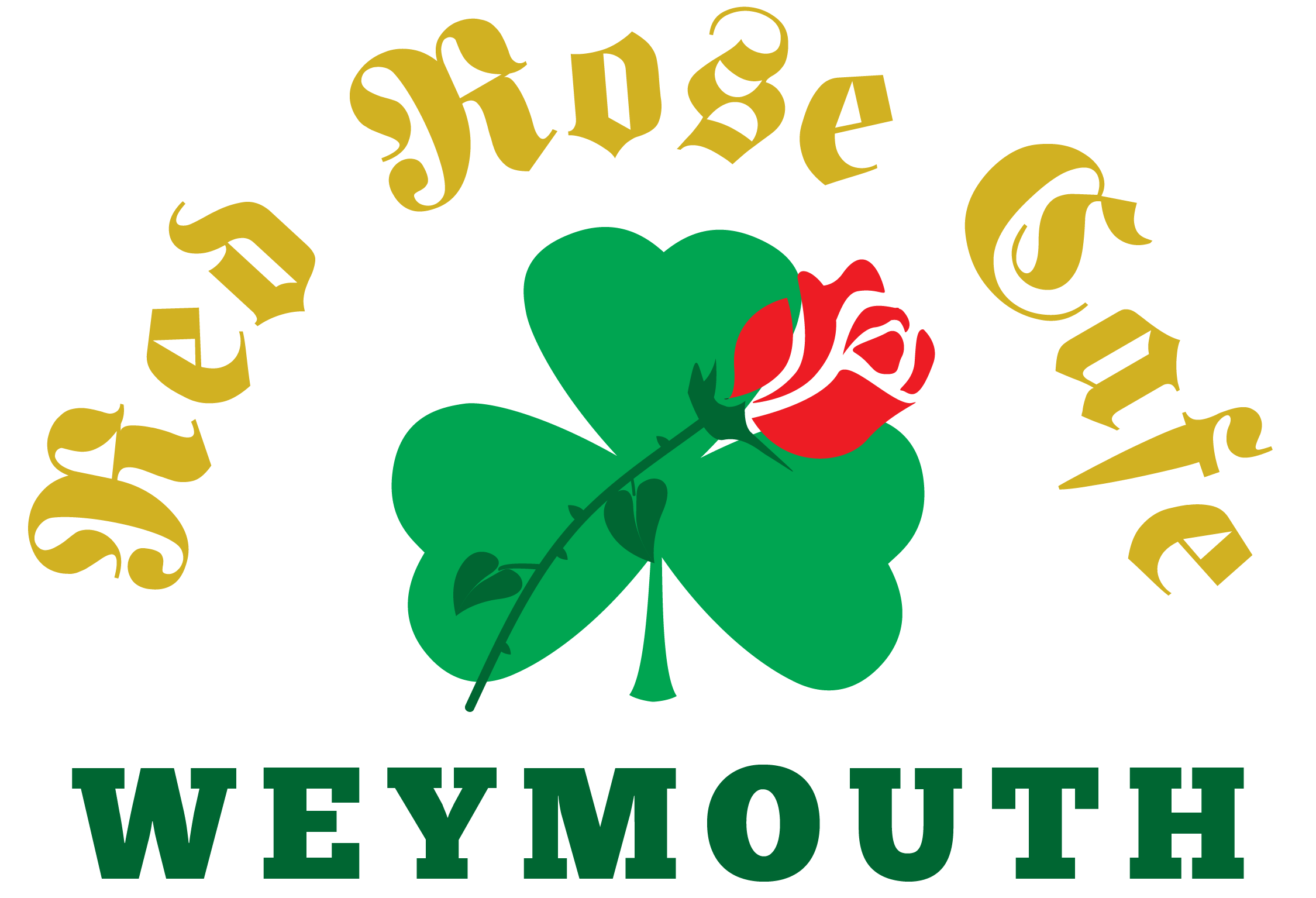 Red Rose Café Weymouth, MA


Tommy Doyle's @ Sidelines Brockton, MA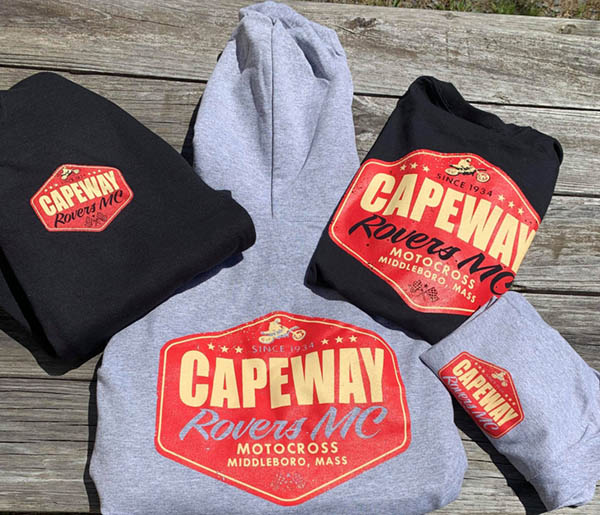 Capeway T-shirts and sweats in stock!



Sunday
RACE ORDER
NON-RACE BIKE
For non-Racers
WOMEN'S/50+
SCHOOLBOY
30+ ABC 55+
50 OPEN
250 ABC
65 7-9/10-11
40+ ABC
65 OPEN/ GIRLS
OPEN ABC
85 9-11/12-15
50 4-6/7-8
450 ABC
SUPERMINI
RACE SAFE, HAVE FUN NCSC


Proof of medical insurance required,
riders must bring their card to signup,
you will not be able to ride without it.

NO PIT VEHICLES OF ANY KIND

RIDING IN THE PITS IS FROM YOUR PIT TO THE STAGING AREA AND FROM THE TRACK EXIT TO YOUR PIT ONLY

Riders Meeting 8:45 Bleachers

Radio 96.5 FM



New Capeway Rovers T's & Sweats @ signup
2022 SCHEDULE
CAPEWAY ROVERS M/C & NCSC SPRING SERIES
3/20/22
Sun
Practice
3/27/22
Sun
NCSC/NEMX
4/3/22
Sun
NCSC
4/10/22
Sun
NCSC
4/17/22 Cancelled
Sun Easter (Moved to 5/8)
NCSC
4/23/22
Sat NCSC OFF
NEATV PRAC
4/24/22
Sat NCSC OFF
NEATV RACE
5/1/22
Sun
NCSC
5/8/22
Sun Mothers Day
NCSC
5/15/22
Sun
NCSC
5/22/22
Sun
NCSC
6/5/22
Sun
Practice
6/25/22
Sat Capeway Classic
NCSC/NEMX
6/26/22
Sun Capeway Classic
NCSC/NEMX
7/9/22
Sat Southwick National
OFF
7/17/22
Sun
NCSC
CAPEWAY ROVERS M/C & NCSC FALL SERIES
7/24/22 (Cancelled)
Sun
NCSC
7/31/22
Sun
NCSC
8/13/22
Sat Unidilla National
OFF
8/14/22
Sun
Practice
9/17/22
Sat Anniversary
NCSC/NEMX
9/18/22
Sun Anniversary
NCSC/NEMX
9/25/22
Sun
NCSC
10/2/22
Sun (postponed)
NCSC
10/9/22
Sun
NCSC
10/22/22
Sat MOTO BASH
NCSC/NEMX
10/23/22
Sun MOTO BASH
NCSC/NEMX
10/30/22
Sun
NCSC
NEW DATE!!! 11/13/22 NEW DATE!!!
Sun
NCSC
SCHEDULE SUBJECT TO CHANGE-70% PARTICIPATION FOR AWARDS
GPS Address: Capeway Rovers 224 Plymouth St Carver, MA 02330
ALL RACERS WELCOME
GPS Address:
224 Plymouth St
Carver, MA

2022 NCSC Sponsors Please Support those who support you:
Monster Energy
Bettencourt Honda / Suzuki W. Bridgewater, MA 508-587-1701
C-Cycle Suspension Service East Hampton, CT 860-267-1710
Hutch Motorsports Raynham, MA 508-977-9600
Monster Energy Unleash the Beast!
Monty's Cycle Shop W. Bridgewater, MA 508-583-1172
Motorsports Nation Seekonk, MA 508-336-7516
Pilgrim Power Sports Plymouth, MA 508-747-6181
Plymouth County Motorsports Middleboro, MA 508-828-8841
ROCKAUTO.COM All THE PARTS YOUR CAR WILL EVER NEED
Damien's Hanson, MA
Giardino's Abington, MA
The Red Rose Cafe Weymouth, MA
Tommy Doyle's @ Sidelines
Brockton, MA
Welcome back Rock Auto
Check out their web site the next time you need parts for your car or truck at rockauto.com

If you or your company is interested in being a sponsor of the races at Capeway please send an email to David Payne

Save time at signup fill out the NCSC membership form on your computer print and mail it before the 1st Race

2022 NCSC membership forms on-line
Download the form to your computer, fill it out on your computer and then print out your completed form
Capeway Rovers M/C & NCSC are using MyLaps Transponders
All Riders must use a MyLaps Transponder

The Transponder needs to be registered and
charged prior to the event.
Make Sure you Charge your Transponder

MyLaps Transponders may be rented
To Rent a Transponder the Rental will be $10 with
Drivers License & Credit Card as Deposit
plus $10 for Each Holder Needed

If you already own a Transponder make sure your
Subscription is current and your Transponder is Charged

Extra X2 Transponder Holders will be
available at the Track for $10 Each
Follow us on Facebook
Stop by the track page on Facebook for photos of the new track changes, it's all right here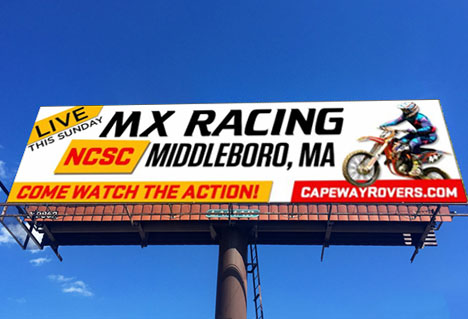 2022 Classes

Non race bike
50 4-6
50 7-8
50 Open 4-9
65 7-9
65 10-11
65 Open 7-12
85 9-11*
85 12-15*
Supermini 9-16
Schoolboy 12-17
Open C
Open B
Open A $
250 C
250 B
250 A $
450 C
450 B
450 A $
30 C
30 B
30 A $
40 C
40 B
40 A $
50+
55+
Girls 9-15 65-112 2 stroke 110-150 4 stroke
Women 85cc-250cc

NCSC CHAMPIONSHIP CLASSES:
50cc 4-6, 50cc 7-8,
65cc 7-9, 65cc 10-11,
85cc 9-11, 85cc 12-15,
250 B, 250 C, 450 B, 450 C
NCSC CHAMPIONSHIP CLASSES Certificate Only:
50cc Open, 65 Open, Supermini, School Boy 12-17, Open A/B/C,
30+ A/B/C, 40+ A/B/C, 250 A, 450 A, 50+, 55+, Woman's, Girls 9-15
Championship Points, Trophies for overall finish, except 250A/450A Championship Pts, no Promo Pts,
Trophies for overall finish both moto's, except Experts.
All NCSC Championships require 70% Participation Membership required to receive Championship points


NCSC Trackside results page
Check out the results page powered by Trackside, it's search-able by event, racer name or number. Click here to see all the stats.


Important notice about number plates
All motorcycles must have number plates, upright, clearly visible and legible when in a riding position and securely mounted; they consist of a front plate and side plate on each side.
Your N.C.S.C assigned number, in plain block numbers, with the appropriate color combinations must be used.
Fluorescent numbers and or backgrounds are not allowed. Fancy designs, outlines and or shading of numbers are not allowed.
All numbers on a motorcycle must be minimum of six inches tall, except for 50cc and 65cc class, they can be a minimum of three-inches tall.
Numbers may not touch or overlap on number plates.
Illegible numbers can result in either improper lap scoring or no scoring for the race. It is the rider's responsibility to ensure scorers can easily read his official NCSC number.

Number Plate Colors are:
50cc 4-6, 65 7-9, 85 9-11 Black background with white numbers.
50cc 7-8, 65 10-11, 85 12-15 White background with black numbers
C - Black background/white numbers
B - Yellow background/black numbers
A - White background/black numbers
Penalties will be assessed for wrong colors.


250 2-stroke rule update
250 2 Strokes are allowed in the 250/450/Open classes.
250 4 Strokes are allowed in the 250/Open classes.
250 2 Strokes are NOT ALLOWED in the 125 Youth classes.

General info
Member Event Entry $35 per Class for NCSC members
$10 one day fee for non-members
Gate $20 General Admission under 4 Free
Gate opens day before Event 4-9pm
Gate opens Day of Event 6:30am
Sign up is 4-6pm Night before, Day of 7-9am
Practice starts at 9am - Racing follows practice
NO STARTING OF ANY MACHINES BEFORE 9:00 AM